HearthStoneID | Amateur League
Berawal dari sebuah komunitas yang menyukai permainan HearthStone yang dipublish oleh Blizzard. Terciptalah ide untuk mewadahi turnamen untuk pemain Indonesia.
Dengan berbekal media sosial mengajak teman-teman dan kolega untuk bergabung dengan komunitas HearthstoneID. Harapan terbesar adalah dengan adanya komunitas ini, dapat bersaing dengan pemain-pemain dari luar negeri dan mengharumkan nama bangsa.
Saat ini anggota dari HearthstoneID telah berjumlah 150 anggota yang tersebar di berbagai kota di Indonesia. Oleh karena belum adanya turnamen skala nasional, turnamen masih dilangsungkan secara online.
The tourneyEdit
Mode friendly match dari Hearthstone sangat membantu turnamen ini, dimana setiap peserta menambahkan teman mereka dengan cara add battle.tag, setelah menambah battle.tag pertandingan dapat dilangsungkan.
Penyisihan dimulai dengan penyisihan secara online. Dimana tiap pemain yang ingin berpartisi mengirimkan email dengan data hero dan kartu-kartu yang akan mereka gunakan di pertandingan ke panitia HearthstoneID
ParticipantEdit
Pemain yang berpartisipasi sejumlah 23 orang. Penyisihan dimulai dengan membagi peserta menjadi 7 group. Kemudian akan diambil 14 pemain yang akan bertanding knock-out elemination.
Dengan support dari MOL dan XL Xplore maka grand final akan dilaksanakan di XL Xplore Central Park.
The FinalEdit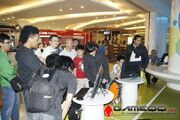 23-Maret-2014
- Banyak pengunjung XL Xplore yang mencoba langsung game HearthStone di booth. Antusiasme ditunjukkan oleh mereka karena game tersebut sangat mudah dimainkan dan untuk segala kalangan umur.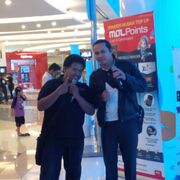 Untuk menambah semarak jalannya pertandingan di both XL Xplore. Panitia telah menerjunkan dua mc yang didaulat untuk pertandingan final kali ini. Semua dikupas mulai dari kartu-kartu yang digunakan, sampai strategi yang digunakan oleh masing-masing finalis. Tak jarang interaksi antar penonton dan MC menjadikan keunikan tersendiri untuk pengunjung Central Park.
Tapi jangan lupa tetap ada event lain untuk pemain baru HearthStone, tim MOL online bekerjasama dengan XL Xplore mengadakan event Lord of The Arena dimana kalian ditantang untuk mencetak kemenangan terbanyak dalam mode Arena.
Mengalahkan lawan sebanyak 2 kali akan keluar sebagai pemenang.
Tidak dapat mengganti kartu yang telah disubmit kepada panita
Bagi deck kartu yang telah kalah tidak dapat digunakan kembali
Prize sponsored by MOL Indonesia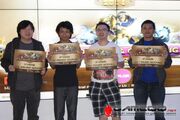 Juara 1 mendapatkan Rp400,000 MOL Points

Juara 2 mendapatkan Rp300,000 MOL Points

Juara 3 mendapatkan Rp200,000 MOL Points

Juara 4 mendapatkan Rp100,000 MOL Points
Reference linkEdit
Turnamen ini diliput oleh beberapa media online Indonesia, antara lain
Kang Deruit - Druid Deck Control http://www.hearthpwn.com/decks/44300-kang-deruit
Pow-a-din - Paladin Deck Control http://www.hearthpwn.com/decks/77075-pow-a-din
Warrior Pembantai - Warrior Agro http://www.hearthpwn.com/decks/45456-warrior-si-pembantai
Azelme Hunter  Deck - Hunter Agro http://www.hearthpwn.com/decks/45556-rafael-fabian-azelme-patrick